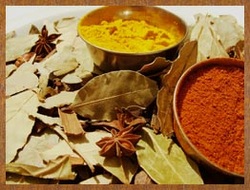 Indian cuisine is varied in taste and type. While it is difficult to describe Indian cuisine with our linking it to the geographic regions, it is true to say the Indian food is generally spicy. Rich in taste, texture and satisfying, Indian food, or at least that part of Indian food that is prepared with minimal oil and healthy cooking methods, is often considered one of the healthiest cuisines in the world.
It is made from Rice, Wheat flour, variety of pulses, vegetables, fruits and spices. Indian curries are cooked in ghee, peanut oil, mustard oil, coconut oil or gingili oil, depending on the region. Fish and meat are also part of many recipes.

Indian cuisine has an immense variety - not just the curry! Indian curry is a combination of stir-fried goodies: mainly onions, garlic, ginger, and tomatoes mixed together with spices and seasonings. Add poultry, meat, poultry fish or just vegetables - and you have a stew like spicy Indian curry.

Indian food is rich in variety, taste, and flavor. Each region has its own style of cooking and unique cuisine. Renowned for exotic gravies and spicy kababs, Indian cuisine has something to satisfy every palate. The strong flavors of Indian cuisine are because of the seasonings, spices, and the basic ingredients which include grains, pulses, leafy vegetables, fruits, and meat. Spices and seasonings were used even thousands of years ago, both for their ability to engage the palate and also for their medicinal qualities; for example turmeric, cloves and cardamoms are antiseptic in nature. Ginger and cloves help digestion. Pepper is great remedy for throat ailments.

Indian cuisine uses the whole palette of flavors—spicy, sour, sweet, and hot all at the same time—making it something that wants to jump off the plate.
---